Youth need to enhance work culture to sustain our society
North East Institute of Social Sciences and Research (NEISSR) commemorated 7thGraduationDay on 18th October 2022 at Peace Centre, Chümoukedima.49 students of Masters in Social Work received their graduation certificate during the function.
The academic procession marked the beginning of the function with colours and celebrations.Rev. Fr. Chacko Karinthayil invoked God's blessings.Rev. Fr. Dr. C. P.Anto, Principal, NEISSR welcomed the dignitaries and the graduates. He congratulated the graduates and exhorted them to be well prepared to face all challenges with knowledge and skills. Ms. Imtipongla Kichu shared the journey of NEISSR encompassing various programmes,events, values and ethics. Ms. Livino, former President of Students Council for Social Change reminisced the memories in NEISSR with appreciation.
The Chief Guest, Shri. Menuokholie Kire, Joint Director (Admin) and State Project Director (RUSA), Higher education, Govt. of Nagaland expressed his joy and congratulated the graduates for their success and achievement. He emphasised the importance of skill development as the need of the hour. Every student must venture out with dedication and hard work to realise their dreams. Blame game must give way to reasons and commitment.
The Guest of Honour, Rev Fr. Dr. George Kedhoulhou, Principal, St. Joseph's College (Autonomous) Jakhama Stressed the importance of leadership in the perspective of today's context. He cited A. P. J. Abdul Kalam as an intellectual leader with dreams and visions. Today, Nagas have learnt the culture of hard work and consistency. These have enhanced the intellectual growth of the individuals. Students must imbibed the qualities of intellectual leadership to be more efficient and effective in the society.Society can be much safer in the hands of the intellectuals.
Mr. Stephen Gangmei, Assistant Professor, felicitated the graduates with certificates and awards.Ms. Magdalen Odyuo bagged the first Rank award, Best Research award and Best Student Award. She expressed her gratitude to the institute, faculties and students for moulding her life. She encouraged the students to give their best in academic fields and other co-curriculum activities for the all-round development. Meanwhile, the Best Professional Progressive Circle (PPC) was awarded to 'We Can team' for bringing out the best model "Promise Home."
Earlier the host for the programme were Ms. ZhovinoKechu and Mr. KossamLaoba Konyak. The celebration concluded with a note of gratitude proposed by Rev. Fr. Khing, Vice-Principal and Administrator.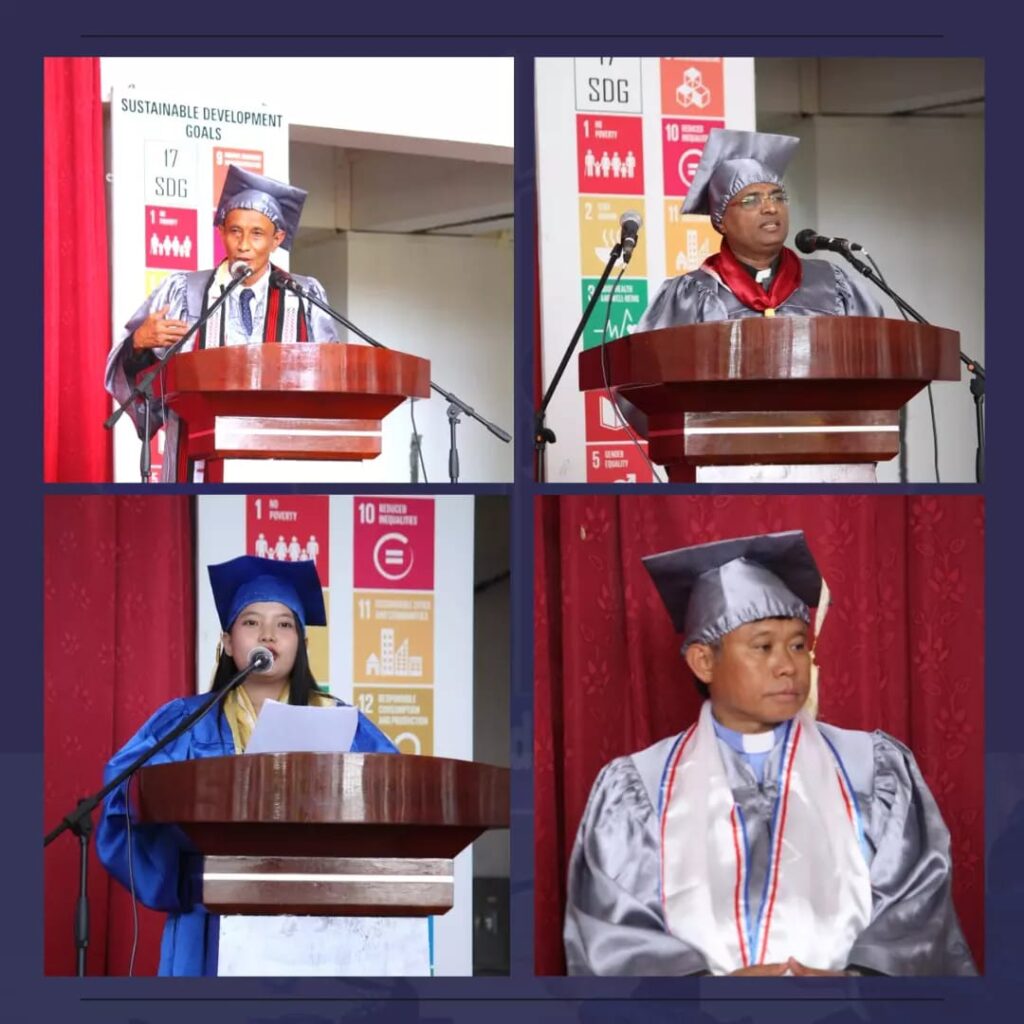 https://www.facebook.com/NEISSR/posts/pfbid0AfBRjaKER7SreLrMLLEdWNENkNCCtBEVqBATh8xMoADDbmVn86Gud65M3BP2g7Lml